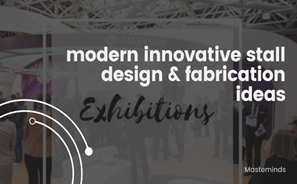 Making the right choice for your brand when it comes to stall design and fabrication can be very challenging. With so many service providers around, it is important to find the most suitable one for your needs. You can promote your brand in the best way by making the right choice here.

The purpose of this blog is to share modern innovative fabrication ideas that Masterminds have come up with.

Give it a realistic feel :
Visitors who are quite interested in the products will come to an exhibition stand that closely matches what the business offers. Therefore, using innovation when planning your brand's expo booth will help you succeed. Always keep in mind that people adore realistic touches. Therefore, make an effort to include it more in your show design.

Use attractive Graphics :
Along with vibrant graphical elements in your show stall will assist you in creating a pleasant experience for your viewers. Instead of using massive hoardings that describe the perks of using modern designs, create an environment for the viewers that demonstrates the convenience of having such items in their residence. Don't forget to include some brief but descriptive copy to explain the image. The creative use of graphical elements can help your brand leave a lasting impression in the minds of your visitors.

Enhance innovative showcases :
Install the latest display technologies to make your exhibition stall a pleasant and welcoming place for your visitors. Smart exhibition screens, which including Projection-Mapping, Virtual Walls, Interactive Flooring, and so on, are brilliant for communicating with guests and capturing their attention. Additionally, playing stunning video clips and animations on the display screens can help you immediately capture the attention of the viewers. To heighten your audience's interest, you can also use slideshows, stunning projections, and other visual elements. These can help you promote your brand while also attracting viewers.

Lighting & Appearance Scheme :
However apart from the factors mentioned above, the use of color schemes and lighting in any exhibition stall can help your brand stand out from the crowd. You can use vibrant colors to attract your audience, but avoid it to a maximum of three colors. But apart from colors, the use of led lighting is an important determinant of the success of your brand at any exhibition. These technological advancements facilitate you in interacting your guests in a very compelling way through creatively communicating your brand's message.

Use advance technologies to engage the Target Audience :
Introducing modern technologies including Artificial Intelligence, Virtual Reality, Augmented Reality, and Multi-sensory Skill set when showcasing your brand at any exhibition stalls will keep you one step ahead of your competitors. Because, nowadays, you must offer something unique and interesting to keep your customers engaged in your products and services. Again, providing your guests with a multi-sensory experience will make them want to stay at your exhibition stall. So these are some quick modern innovative fabrication ideas.

Masterminds offer you the complete exhibition related services from design to execution. Get in touch with us for your next exhibition.